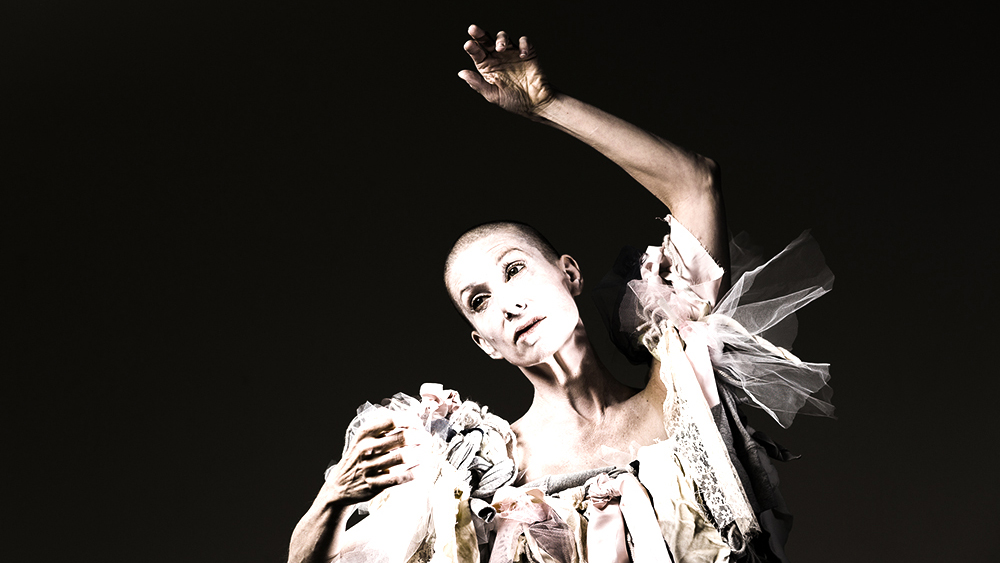 Photo: Caren Harris
Constance Humphries has been making, performing and teaching dance since 1987. As a choreographer and performer, her work is firmly rooted in the rigorous study and practice of butoh dance. Butoh is often referred to as the dance of utter darkness. In this darkness are the unconscious body and mind. It is through excavating what is underneath consciousness that Humphries seeks meaning and inspiration for her creative practice, which investigates and addresses issues of liminality, love, vulnerability and intimacy.
Ms. Humphries received a BFA from the University of North Carolina, Asheville NC, USA in 1994. From 1987 until 1995, Humphries was a member of the modern dance company, Wall St. DanceWorks. In addition to her staged solo performances and work with Wall St. Danceworks, from 1992-2005, Humphries performed in experimental, covert, site-specific and street performances. In 2005, she began studying and practicing butoh dance, receiving instruction from many internationally respected butoh teachers and performers, including Seisaku, Maya Dunsky, Yumiko Yoshioka, Mari Osanai; and, her butoh mentor and colleague, Julie Becton Gillum, who has studied with Yoshito Ohno, Natsu Nakajima, Akaji Maru, Seisaku, Diego Piñon and others.
Constance has presented her performances and workshops internationally, including Mexico, the US, and the UK. Recent projects include the Just Gather Film Festival, Edinburgh, UK; Help! at BALTIC Centre for Contemporary Art, Newcastle, UK; Black Mountain College Museum's Interlude festival, Asheville, NC; Context, Pretext, Subtext: Words in Art, Art in Words, Mars Hill University, Mars Hill, NC and the 11th Asheville Butoh Festival.
For 2017-2018, Humphries was chosen as Artist in Residence at Revolve Project Space. Residency projects include Entanglements, a collaboration with Linda Larsen, Adam Larsen and Kima Moore; ReSound, a collaboration with Sonic Parlor and Denice Carbonell; and Am I Who I Am? , a solo exhibition of screen dance + a live performance (and an album). In May, 2018, she performed a new work, The Daydreamers' Ball for Strange and Broken Things Of Questionable Circumstances at Asheville Butoh Collective's show, Dirt, Dreams and Death. The piece was also performed at Bamburgh House Project Space, Newcastle, UK in July, 2018.
In April 2019, Humphries will perform a work in progress at the Asheville Fringe Arts Festival, premiere a new work, The Beautiful Us at the 13th Asheville Butoh Festival and will screen Hole as part of the Asheville Art Museum's Appalachia Now exhibition.
A passionate educator, Humphries teaches butoh workshops and classes. She is also a member of Asheville Butoh Collective,  the assistant director of the Asheville Butoh Festival and co-producer of Frame + Form Screendance Festival.
---
About Butoh: Originating in post WWII Japan, butoh is a potent and revolutionary dance form. Butoh uses the body brazenly as a battleground to attain personal, social or political transformation. In its early forms, butoh embraced and referenced Western artistic movements; German Expressionism, Dadaism, Surrealism, Existentialism and Fluxus, all of which pervaded the Tokyo underground and the avant-garde arts scene at that time. In fact, the cofounders of butoh, Tatsumi Hijikata and Kazuo Ohno trained in German modern dance, which was integral to the development of German Expressionism. But, eventually they took opposite approaches to their dance making. Hijikata's work became known as ankoku butoh (dance of utter darkness); and, he embraced the grotesque and the absurd, exploring themes of sacrifice, struggle and death. Ohno's butoh was playful, humorous and filled with light and life. Today's butoh is influenced by both Hijikata and Ohno and wrestles to balance those contrary approaches. Philosophically, butoh slips between the cracks of definition in order to reveal the fervent beauty of the unique human spirit.